The Damn Yankee

Newsletter of the 41st Ohio Volunteer Infantry

July/Aug, 2001 Issue

Message from the Editor

July was a very busy month for your editor, and he failed to get out the July edition. So, with much apology, here is my combined July and August issue.

July Event

Genesse Country Village Reenactment, July 14-15

Mumford, NY

We all had a great time, didn't we? One of the best events I have attended. Lt. Guy commanded a combined company of the 41st Ohio, members of the 49th NY, and a few dismounted Cavalry from the 9th NY.

August Events

First Bull Run National Reenactment, Aug. 3-5

Leesburg VA

By the time you receive this newsletter, the event will probably be over. Right now it appears that there will be around 4000 men in blue on the line, so it should be fairly impressive.

Cuyahoga County Fair CANCELLED

There was some unfortunate confusion with the Fair Board, and we lost our place on the fair grounds. Without a place to set up and do our presentations, it's tough to participate, so the event has been cancelled.

Event Schedule

Sept. 15-16 Zoar, OH
Event Boss: Mark Clay
Oct. 7-8 Perryville, KY
Event Boss: Mike Noonan

For more information, contact the event boss or see our web site schedule (

http://members.tripod.com/~dmcclory/members/schedule.html)

Zoar

By this time, everyone should be registered for the September event in Zoar, Ohio. If you need information on the event and have access to the Internet, their web site is located at

http://www.zca.org/reenactors.html. A simple map of how to get there is shown below, with Zoar shown as a cross in the middle. Zoar is located about mid-way between Massillon and Dover, Ohio, just off I-77. Look for the exit labeled "Exit 93 OH-212 to Zoar / Bolivar".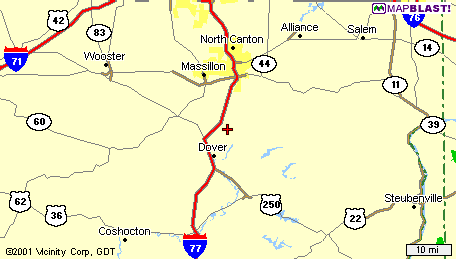 Kent (Ohio) Library Presentation
The administrators of the Kent Free Library have contacted your humble editor with a request that members of the 41st Ohio put on a presentation there in October. They would like to have between 2 and 5 individuals available for roughly 90 minutes during a weekday evening. The presentation is to be
targeted at adults, primarily, as part of their expanded adult programming. They'd prefer a first-person impression.

If you would be interested in participating please let me (Dan McClory) know, and let me know which day(s) in October would be best for you. Remember that they would prefer a WEEKDAY evening.
Perryville Registration
Given that we are now at the height of our reenacting season, you may have forgotten about our final event of the season in October, at Perryville, KY. Please accept this subtle reminder if you did. The pre-registration fee is $5 and the deadline is September 1. Our event boss for Perryville is Mike Noonan. Included with the newsletter you'll find the waiver form for this event, which you should sign and return to Mike.
Perryville is a reenactment of an early war (1862) event, just like Bull Run, so our uniform and tentage guidelines are different from the normal: shelter halves are discouraged in the military camp, and since we'll be portraying new recruits, our uniforms should appear as neat, clean, and new as we can manage to make them. A "Mixed" camping area will be provided for those military men and their civilian associates who prefer to camp together.
Company Assignment _______________________
KENTUCKY DEPARTMENT OF PARKS
WAIVER OF LIABILITY CLAUSE
I ____________________________________________________________
The undersigned participant in the PERRYVILLE BATTLEFIELD REENACTMENT activities, do hereby agree for myself, heirs, executors; and assigns that the Commonwealth of Kentucky, Tourism Development Cabinet, Department of Parks, and agents, officers, and employees thereof, shall be released from any and all claims for personal injury or loss, or damage to personal property suffered or sustained by me in connection with the PERRYVILLE BATTLEFIELD REENACTMENT activities while on or about the premises of the Perryville Battlefield State Historic Site or any land or equipment rented or borrowed for the event.
I further assume the risk of personal injury, loss, or damage to myself and loss, injury, and damage to my property while on the above premises and while participating in the above activities.
I further understand that this event is by invitation only and that I have read and understand all of the event rules and any violation of those rules will result in a revocation of invitation and, as a result, I can be evicted from the event without notice.
______________________________ _____________________________________
WITNESS SIGNATURE DATE